To understand how I ended up cocktail-deep in a chat about sex with the beautiful elfin that is Laura Massenat, we have to start at the beginning of my anxiety.
It goes like this: My second book comes out in February. It's called We're All Bad in Bed, and it's about true, embarrassing, sex stories. A few of the tales are mine. The rest are friends' (all names changed). I never worried about this book's repercussions until someone randomly asked me how my dad felt about it. The older woman (librarian hair, homeschooler) hit me sideways mid-squat at my exercise class in Edmond.
"What will your dad think?" she asked.
I paused, thighs and brain burning. "I don't know, but I'm sure he'll hate it.  Jeez.  Did anyone ask Snoop's mom her thoughts on his rap about having his nuts on some girl's tonsils?"
People say there are no stupid questions, but I'm pretty sure hers was dropped on its head as a baby. I mean . . . DOY . . . of course my dad will hate my sex book! The words DAD and SEX BOOK never mix well. And even though my book spotlights consensual, adult, hilariously awkward sex, I'm 100% positive my parents don't want to read it. They have no desire to learn about their daughter's random nipple hairs and accidental queefs. No parents do. I knew that to be true long before Miss Conservative interrogated me, but admittedly, her question still rattled my cage.
I drove home chewing on her words. Later that day, I shared my workspace with my potential shame. For dinner, I ate worry with a side of fret.
Should I be embarrassed about this book? Once I release it, will other people besides my parents judge me? Will they forever pin one label on my chest: CLASSLESS or maybe VULGAR. Maybe they already do. Fuck.
 These are the simple facts:
I live in a conservative state.
Sex is still a fairly taboo subject in the United States, anyway.
Most of my friends are new moms, and the last thing they'd publicly talk about at this age (or maybe ever) is the slackest blowjob they gave in college.
Oklahoma simply isn't the safest place to fly your freak flag. A lot of people in this state like to act like they don't have sex, and that reputation precedes us—makes us seem dully antiquated. That's why many people outside Oklahoma like to think Oklahomans don't have sex unless it's with a buffalo, a relative, or a relative's buffalo. We are presented as a severely conservative and sometimes anciently twisted society—whether true or only assumed is up to you.
For me, I knew/know how tight OK is compared to other locations, but my truth didn't help smooth this wrinkle. All of the sudden, I was confused. Did it matter if my sex book would be accepted in New York if it would be snubbed in my home state? I mean . . . I still live and work here.
Miss Conservative's question slurped on my energy source until it became a "thing." It grew a beating heart and an asshole personality, plopping down on the edge of my bed one week later and deadpanning me.
Have you really thought this through? You might want to backpedal—for real. This could change things. You can't put the bird back in the cage once it escapes into the wilderness. Trust me. I once Tweeted about my ex's dick.   
I was flustered into action. But instead of losing my shit and trashing the book I'd spent the last year completing, I decided to start a hunt. I planned to pounce on the smartest, most respectable, successful, inspiring women of Oklahoma City in the name of female therapy. I would find out what they thought of me releasing an embarrassing sex book, because maybe their thoughts would matter—or not. I would find out.
I would gain insight by creating a chain blog about their answers, and this is how it would work: After the interview, the interviewee would recommend the next woman for me to talk to, and so on and so forth until I'd collected a constellation of opinions.
And . . . so it began. I started with Laura Massenat, because she's hypnotically progressive and enviously introspective. Laura is one of the owner's of Elemental Coffee in midtown OKC. Whip smart. Painfully chic. The type of woman you want to like you.
This was what she had to say about sex talk in Oklahoma—mid-bar—cocktail #2 going down like water.
LAURA'S INTERVIEW: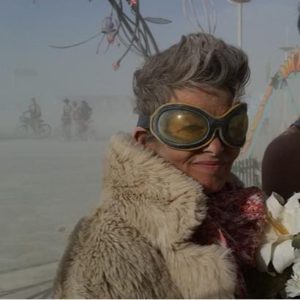 "I feel like I'm on my own quest to find out what's really true and what we simply believe because our culture believes it," Laura said, straightening her spine and lowering her chin.
Laura grew up in Sapulpa. Her parents were raised in the church, but she wasn't. As a child, she was in no-man's land religiously, which is rare in small-town Oklahoma.
"It wasn't if you go to church. It was where. I had a feeling of not belonging, because I didn't belong to a church. I stuffed a lot down. I was a good girl, though. I definitely had an image I wanted to protect. I was equally afraid of being a slut and a prude."
Laura paused her story to take a sip of her witch's brew. It was literally on fire only moments earlier. The bartender at Savings and Loan had a propensity for flambéing everything within reach. Burnt cinnamon seemed to be the perfume of choice.
"Like with my husband," Laura continued, setting down her glass with careful hands. "I've been open to trying anything he wanted over the years—we both have been GGG. But my recent shift to questioning my thinking and our dabbling in Tantric practice have made me 'all in' in a way that wasn't possible before. I feel like I recognized my sexuality as part of my power and energy, and reintegrated that part of my personality into the whole. I'm not concerned about what is slutty. That's fucked up.  I'm concerned with what my partner and I want, what that feels like in the body, and the connection that it creates.  In fact, I was recently baptized the 'Patron Saint of Sex' amongst my girlfriends."
I smile so big my cheeks hurt. "That's amazing. Your new title is golden. I think you need business cards."
Gazing at this new-school woman—admiring her thinking—I figured her husband was equally as cool. I wondered how much percentage he held in creating such a welcoming environment for sexual experimentation. He's French. From my experience with the French, they're wonderfully advanced. How could you not be if you're famous for tongue kissing and threesomes?   A pang of yearning stabbed my stomach—a reminder of how much I sometimes miss the more broad-minded countries I've called home.
"Ya know, I wish sex weren't such a villain here," I said, throwing back an unladylike gulp of my concoction. "But it is, and here I am.  So what do you say to an Oklahoma girl who wants to talk openly about sex in a place that isn't so sexually open?"
"I think you have to talk about it. I'm tired of a world where we pretend to be things we're not. We have to admit that we're all having sex. Support each other. Admit we're all human. Life is hard. Let's all help each other out, because sex isn't bad. We send such a negative message in our culture and to kids about not having sex that it's a huge disservice. It keeps them from getting the help they need to understand it, to be healthy and smart about it."
"Yes!" I said too loudly. "There's nothing naughty about sex!"
"Well . . . sometimes there is," Laura winked. "You know, I'm developing an app for tantric sex meditation. And I definitely say it out loud—this IS what I'm working on. I like sex, CHECK."
I cracked up and slapped her knee instead of mine.  "Damn, girl! I knew you were the perfect person to interview first."
"Yup."
"Okay then, the questions."
SIDE NOTE: All interviewees will be asked the same, staple questions at the end of the interview. The questions are listed below, and in this case, along with Laura's answers. This also marks the end of the interview. Shortly after I asked Laura my staple questions, we parted ways for the evening. It was a Tuesday after all, and there's only so much whiskey and sex talk you can share on a Tuesday without feeling you've left nothing for breakfast Wednesday.
What is the weirdest place to have sex in Oklahoma?
Laura: "In the tall grass prairie over by Pawhuska—wild-roaming bison and prairie chickens about."
If Oklahoma had its own, unique sexual position, what would it be called?
Laura: "The spastic hoedown."
What Oklahoman do you think is the biggest freak between the sheets?
Laura: "Everybody knows Mary Fallin is."
If outsiders were wondering what kind of sounds an Oklahoman makes during sex, what would you tell them?
Laura: "Yee haw! Fuck ya'll!"
Thank you, Laura. You are outstanding.
Laura recommended I interview Lauren Zuniga and/or Tracey Zeeck next. Ladies, I'm comin' for ya, "o" face and all.