I
heard that Beyoncé and JayZ bought their daughter a $600K rocking horse a few years ago. My response—a calm, "That seems excessive."
Yawn and eye roll combo.
Fuck them. And by fuck them, I mean good for them.
But…REALLY? Six hundred g's on a rocking horse? Come on, meow.
Oh, the things I could do with that money, and I have no doubt most people—given the chance to spend such an obese stack of cash—would opt out of the golden pony gig too, but oh well.
It's J and B's hard-earned money. Not ours. They can absolutely spend it how they wish, and I mean that. When I have that kind of money, you're damn right I'll spend it how I want without wondering who's cussing on a blog about my purchasing choices. If I crave a drivable waterslide that's highway friendly, by God I'll have it.
See, I'm not jealous of the nasty rich-types like J and B…I don't think. It's not envy that fuels my groans about their golden rocking horse, but more the luxury of their situation. Because I don't have their cash flow, I don't have their extravagant options, and I want them.
I want to be able to sleep in a castle for funsies and bathe in emeralds when I'm depressed—not just sink into a solid session with Cheetos, Netflix, and my softest blanket. It's about having choices, all of them, available.
I want to play the part of a One Percent on occasion. Who wouldn't? It's what we all dream about—hence the rumble of feet racing to buy tickets to the latest, record breaking, $1.5 billion lotto jackpot.
We all wanna be stankin' wealthy and live the high life, but here's the thing. I have a BIG secret. Lean in and I'll yell it at your eardrum so it scars, and you don't ever forget.
YOU DON'T HAVE TO HAVE MILLIONS TO ENJOY A MILLIONAIRE'S PARADISE!!!!!
Hell no, you don't. You just need organization skills and people in numbers.
I know this for a fact, because I just got back from a house in Mexico that's owned by a millionaire and rented out for about $1900 a night. So between fourteen people, it cost only about $135 a night—and we took that offer, gladly. Fourteen girls, all great friends, lived like queens for about four days and nights. Damn straight. Muy fat-o.
So….wanna see the pimp pad?  Ready?  Drum roll…..
KAPOW!!!!!  RATATATAT DAT ASS!!!!!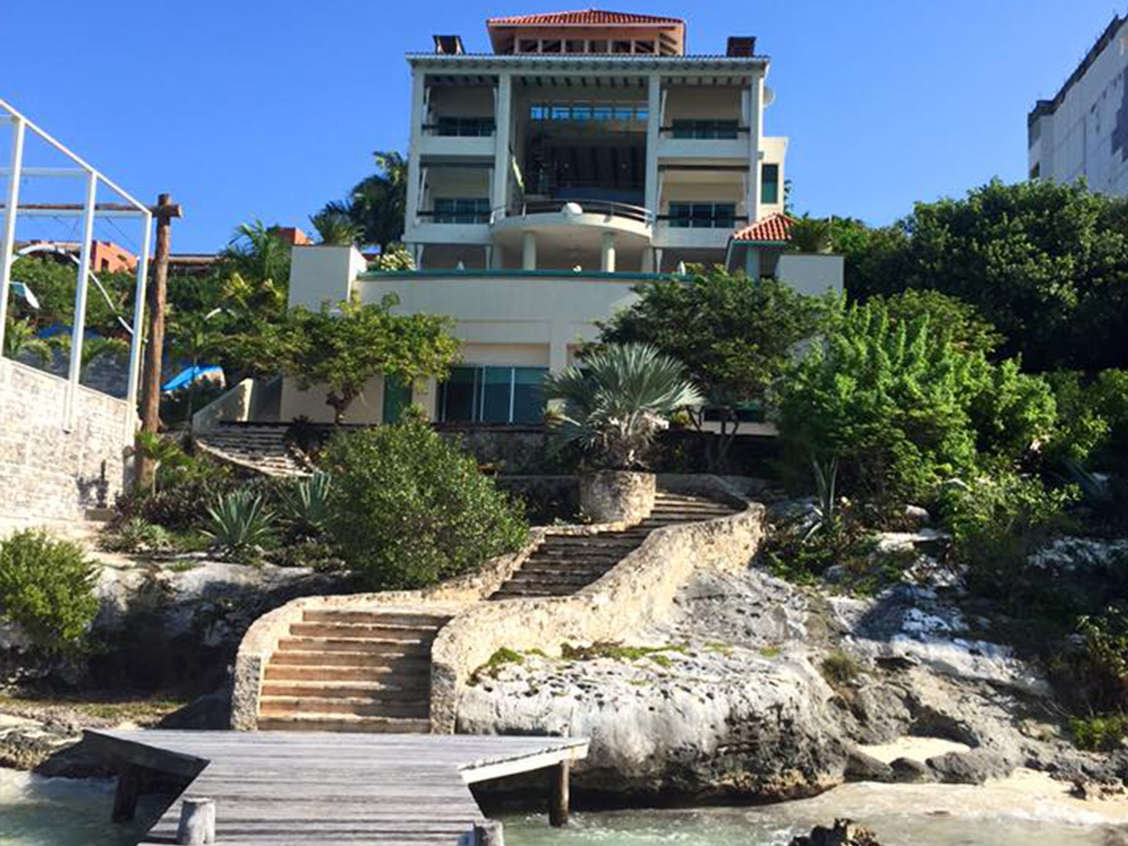 10,000 square feet
6 bedrooms
Marble and gold awesomeness
Fountains featuring giant marble balls and Tikis with water arcs shooting out of their rounded mouths
Private staff to clean, cook, and help us stand up
A bangin' stereo system that bumped our three verandas and two living areas
Three levels of fun that ended with an infinity pool that accented our ocean view and highlighted our private dock of love
A house bitch named Gregario who would deliver alcohol, ciggies, and anything else our impulses desired
FUCK YES. I am proud to say we defiled that house while also snorkeling, wearing unicorn outfits while we danced to Super Bon Bon, smoked, drank more than the whale fish in our bay, and a few of us even got dosed too hard on some edibles by one of our friends who smuggled them into Cancun in her…I dunno.
But damn, those edibles. That tiny gummie made me trip giant balls—I retreated to my VIP chambers where I curled up in a ball, heard voices, and hallucinated to the point of thinking I needed my mommy. Not fun.
But what was super fun was everything else, including the great decision I made to NOT dive on our giant, inflatable pool swan and ride it hard—so hard I would have rode it straight off the edge of our infinity pool and to my demise about twenty feet below.
Cactus. Deck. Rocks. Broken neck. Imagine that story.
"So…what happened, if you don't mind me asking?"  

"I don't mind.  I rode a giant blow-up swan off the edge of an infinity pool at a friend's 40th in a Mexican mansion."  

"Oh."

"Yup."
It would have been regrettable to say the least, but luckily my grey matter flickered on for the two seconds needed to save my life, so yay! No explanation needed. And anyway, the moral of this blog is not about the danger of inflatable swans and infinity pools, but that YOU HAVE TO GET A GROUP TOGETHER IF YOU WANT TO HAVE BIGGER OPTIONS IN YOUR LIFE.
You absolutely can do spectacular things—in groups. You can rent outrageous cars and stay in outrageous spots—if you gather the money of the collective. This you can do. The glamorous life can be yours, for a few days. And don't forget, if the planning stage gets your panties in a twist, there are millions of apps out there to help you through it.
Use AirBNB or VRBO to find houses worldwide. We found our palace on VRBO.
Try DOODLE to see what months/days work best for all the people you want to invite.
When on the trip and booking anything "group" related prior to leaving, my friend uses the app Splittr to keep track of the money spent so it can be easily divided later—allowing excursions, dinners, and groceries to be easily bought by one person instead of trying to collect cash off a bunch of chicks running around like cats on crack.
It's actually quite easy these days, but you have to get people to say YES. That's the hardest part. For that, I recommend sending your girlfriends pics of our Mexican mansion and a caption that reads, "Wanna sit on that patio with me, drink a mimosa, and talk shit about Justin Bieber's penis?"
Check out Shelby's book, Good Globe, for more stories of her adventures and a glimpse at what we can discover when we let go of monotony and go after our dreams.